Like my gear? Let Top Ranger Polt show you!
Hey mang! Interested in the life of a Ranger? Trust me, it's a high horse, high-end job. We run around and save the day while managing to stay fashionable!
If you join as a Ranger today I can sneak you some of our gear free of charge! Just don't tell anyone or we'll be in trouble with the boss. Why do we need a uniform you ask? Well Rangers gotta represent mang, it's a symbol of trust and can get you into some exclusive places and deals. No worries, you don't have to wear them all the time, just on missions!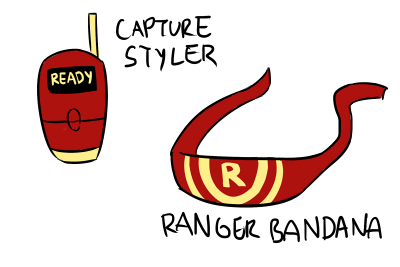 Aren't they awesome? The bandana can be put anywhere, as long as it's visible. Now let's get on to serious business kid. A Ranger's duty is to serve and protect the citizens and Pokemon of the Amicus region. There are two infamous teams of ne'er-do-wells : Team Ultio and Team Vigil. We don't know what their motives are but they're probably not good. We are always so close to catching the leaders behind them but they always seem to slip away from us. Luckily for us, they are rival teams with different goals it seems but we'd be in trouble if they cooperate one day...
But don't worry about that! You won't be getting any top tier missions anytime soon rookie, all newbies gotta start from the bottom and work their way up and one day you'll be just like me! The higher your rank the better the gadgets you receive and the cooler your bandana will become!
I'll give you some advice: It'd be smart if you have a Pokemon team with some HM moves! I guess you could always capture Pokemon with the Capture Styler, but when every second matters it could cost you the mission! Still, it's a handy device for other odd jobs so keep it close kiddo, cause if you lose it you're gonna have to cough up 200 pokedollars! Which is more than a years pay buddy!
Haha, I'm sure you're a responsible kid. Now go out there and save the day, the Pokebros way!
Information on how the quests go like:
Polt will brief Rangers when either Team Ultio or Team Vigil have been spotted doing suspicious activities around the area. There will be 3 different situations that you can choose from, then you will have to draw it out as either a comic, one fully coloured image with a written description (1~2 complete paragraphs) or a sketch with a longer written description (around 3~5 paragraphs) following that situation.
The more quests you complete, the higher your rank will be and therefore the more nifty gadgets you will be getting!